Atlantic Health System and Chilton Medical Center supports Boys & Girls Clubs of Northwest New Jersey. $50,000 grant awarded in support of Club programs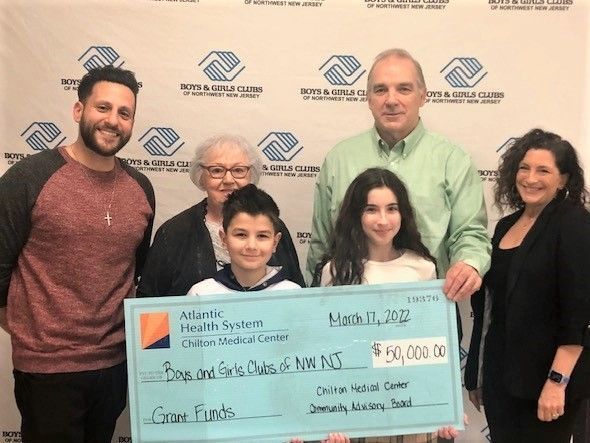 Atlantic Health System and Chilton Medical Center are committed to building healthier communities, beyond simply the delivery of excellent health care in our hospitals, medical practices and facilities. Understanding and supporting the needs of our local communities in Morris, Bergen and Passaic Counties is a top priority for Chilton.
With that in mind, the Community Advisory Board (CAB) of Chilton Medical Center was recently pleased to award the Boys & Girls Clubs of Northwest New Jersey (BGCNWNJ) with a $50,000 Chilton Medical Center CAB grant for the Clubs SMART Moves and Triple Play Programs.  SMART Moves is a drug, alcohol, and peer pressure resistance program. Triple Play is a dynamic wellness program that offers a holistic approach to nurturing the mind, body, and soul that helps children succeed in school, make healthy choices, stay fit, avoid drugs and alcohol and gain leadership skills.
"We are so thankful for the generous support from Atlantic Health System's Chilton Medical Center and their Community Advisory Board.  The funds from this grant will allow us to create opportunities for our communities' youth age 6-18 to master critical life skills to stay safe and healthy in today's challenging environment.  This will be a year-round effort focusing on the emotional, physical, and social needs of our members" said Joe Lynch, CEO of BGCNWNJ.  
A list of priority health needs in the Chilton Medical Center service area was identified in their most recent Community Needs Assessment which includes, but are not limited to - pulmonary disease, heart disease, diabetes, stroke, cancer, and behavioral health.
This grant awarded to the Boys & Girls Clubs of Northwest New Jersey has met one or more of the identified priority health needs, and will now help Chilton Medical Center and Atlantic Health System address these needs - this is great news for residents of Morris and Passaic Counties!
###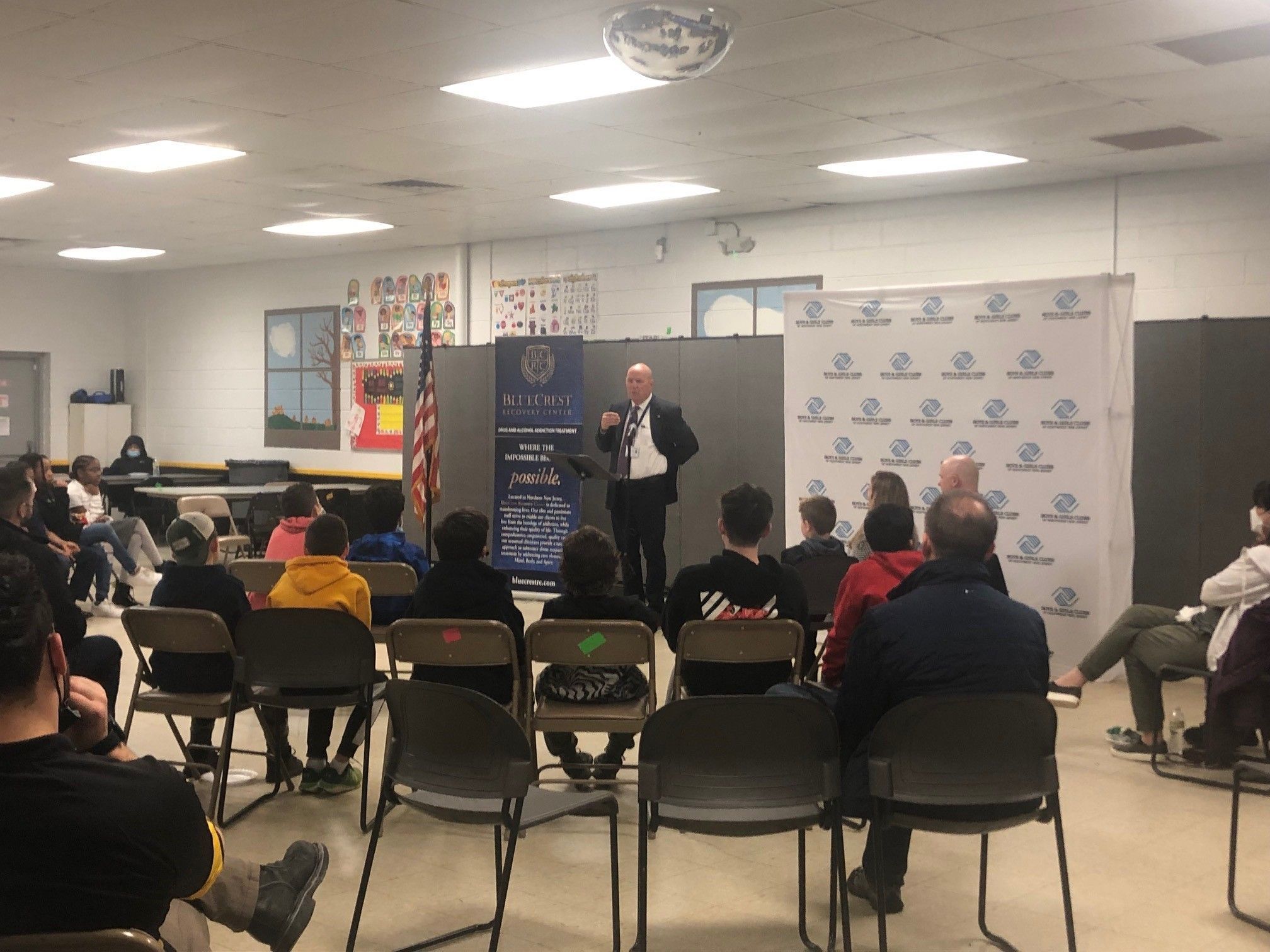 Boys & Girls Club Hosts Drug & Alcohol Prevention Teen Event
WAYNE, NJ – The message was clear: the key to drug and alcohol prevention is education, especially for adolescents and young adults. Knowledge and preparation can help youth avoid the lure and the trap of drug and alcohol abuse, according to the keynote speaker at an event held at the Boys & Girls Club of Wayne.
John Plunkett, the Outreach Coordinator of BlueCrest Recovery Center in Woodland Park spoke to thirty-eight middle school and high school students. The talk was a positive look at choices and courage. It was an openly honest look at today's drugs and their dangers. He shared how people make decisions, and how emotions and stress play a role in decisions.
"The goal of the gathering was for the benefit of Wayne youth on Choices," said Plunkett after the event. "We're hoping that these young adults were able to gain a better understanding of their decision-making process when they're curious and tempted to try, or follow-the-crowd and take drugs or alcohol for the first time." 
It began with pizza and light refreshments, and the guests, talking and laughing in small groups. When Plunkett was introduced and he came to the front to speak, all eyes turned his way.
With a welcoming smile and a contagious positive energy, Plunkett engaged with his audience and challenged them to think and react differently to everyday peer pressure.  An important reminder for those who are not a part of this younger generation came first.
"We parents have never walked in the shoes of today's youth," said Plunkett. "Today's parents did not grow up in an environment of 'life at the speed of twitter,' cell phones and social media use. We certainly didn't grow up in a 'stay-at-home, isolation, lack of human spark/interaction' type of environment due to COVID." 
He focused on points about his audience's difficult choices and how being prepared when confronted with these choices can help them make smart choices for their futures.
Courage was the second theme in his talk, defining it for them as "the quality of mind and spirit that enables one to face danger with confidence and bravery." "No is a full sentence when making the better choice for your future," suggested Plunkett. "Have the courage to say no. Walk away when something doesn't feel right."
He offered several suggestions; tools for their toolboxes, including asking those arrayed in front of him to turn to friends and family if life becomes difficult. "If you or a friend is challenged with all the noise out there; feel anxious, alone or stressed," said Plunkett. "Then ask for help. Talk to those you can trust. Your Parents, other family or friends. Seek help from great organizations like the Boys and the Girls Club or your teachers or counselors at school. Search for help on the internet. It's out there at any point for all of you. You just need to have the courage to ask for it."
"John gave an amazing and inspiring talk to the youth in our community," said Boys and Girls Unit Director, Dan Dipsey. "He not only educated those present at the event, he challenged them and made them think in a different way about the choices today's kids are faced with and the importance of open communication with parents and loved ones."
This was part of the Boys & Girls Clubs of America" Triple Play" program that is conducted at both their Wayne and Pequannock Clubs. According to the flyer for the event, this program "is a dynamic wellness program that offers a holistic approach to nurturing the mind, body, and soul, that helps your child to succeed in school, make healthy choices, stay fit, avoid drugs and alcohol and gain leadership skills."
A question-and-answer session followed, and it seemed clear in the questions that those in attendance had been listening and absorbing Plunkett's message.
"This program provided an opportunity for a safe and inviting space for attendees to ask questions," said Dipsey proudly. "I'm happy that these kids left here with the understanding of the effects of drugs and alcohol, peer pressure and choices, which was the key takeaway from the evening's event."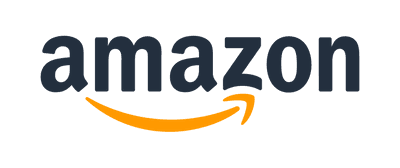 Amazon Invests $400,000 to NJ Boys & Girls Clubs Statewide to Help Youth and Families in Local Communities
Supports Educational Achievement, Health Living and Social-Emotional Learning
Clifton, NJ - November 30, 2021 Boys & Clubs in New Jersey is pleased to announce a $400,000 commitment from Amazon to Boys & Girls Clubs throughout New Jersey. This critically important funding to Boys & Girls Clubs in Camden, Gloucester, Mercer, Monmouth, and Passaic counties will enable the expansion of Club sites to accommodate more kids. It comes at a critical time when afterschool and summer camp programming are greatly needed, particularly given the effects of the pandemic. This major gift will also work to build stronger and healthier communities where it's needed most, fostering educational achievement, healthy living, and social-emotional learning.
Amazon's gift to the Boys & Girls Clubs of Mercer County, along with other funders enabled the Club to open six new school sites to serve 300 more youth per day this school year. Amazon's support also provided the Club with the opportunity to provide scholarships to area youth so they can attend the Club's afterschool programming regardless of their ability to pay.
At the Boys & Girls Clubs of Monmouth County, Amazon's contribution will support the expansion of its teen empowerment and employment program, Project L.E.A.D., as well as the development of a new Club site in the county. Funding of Project L.E.A.D. will allow the Club to provide more young people with valuable work experiences that teach responsibility, helping them develop time management skills, form good work habits, and become financially secure.
Funding for the Boys & Girls Club of Clifton will support the launch of its Youth Voices Town Hall program, an expansion of the Club's leadership and career development programs. This program will provide teens with opportunities for exposure, self-discovery, and ways to build their own network connections. Amazon's funding will support leadership and service-learning best practices and allow young people to engage in conversations with community experts and leaders as they explore their future career paths.
Each day, thousands of young people make the decision to come through New Jersey Terese Greer 2-14 Fair Lawn Avenue Fair Lawn, New Jersey 07410 Tel: (201) 843-5600, ext. 202 Email: Terese@rosica.com Club doors because of our commitment to provide them with hope and the opportunity to pursue a Great Future. As we head into the holiday season, Clubs strive to ensure the families we serve have what they need to make the Thanksgiving season a celebration. To meet this goal, $25,000 of Amazon's support to Boys & Girls Clubs in New Jersey will go towards assisting 20 traditional and military Boys & Girls Clubs in providing Thanksgiving holiday meals for hundreds of NJ Club families in need. Amazon's Thanksgiving support to local Clubs made a tremendous impact to one particular local family whose three children attend the Boys & Girls Club of Newark. This Club family endured a recent fire in their apartment losing all of their belongings. Thankfully the family was not physically harmed but were greatly impacted by this tragic fire. The support from Amazon will truly help this Club family rebuild their new home, as well as uplift the family during the holiday season.
"Year round, the Boys and Girls Clubs in New Jersey provide invaluable service to youth across the state," said Colin Newman, Amazon's Public Policy Director for New Jersey. "Whether it is afterschool initiatives, helping teens develop skills to enter the workforce and launch new careers, or assistance to families during the holidays, the Boys & Girls Clubs in New Jersey are building stronger communities. Their work during the pandemic has been especially vital for underserved communities, and we're happy to support their ongoing efforts to ensure all New Jersey youth can grow and flourish."
"Boys & Girls Clubs in New Jersey is grateful that Amazon is supporting NJ Clubs across the state. This investment will help us continue to provide families with an enriching and safe place for kids after school. Support can't come at a better time given the escalating need we're seeing," said Susan Haspel, State Director of Boys & Girls Clubs in New Jersey. "Every day, NJ youth numbering in the tens of thousands rely on Boys & Girls Clubs across NJ for hope and opportunity."
About Boys & Girls Clubs in New Jersey
Boys & Girls Clubs in New Jersey is an alliance of 22 Boys & Girls Club organizations serving more than 71,000 youth ages 5-18 throughout the Garden State. Boys & Girls Clubs in New Jersey is a collaborative effort representing all 22 Clubs with the purpose of building local Club capacity; raising public awareness; and securing resources and financial support to increase the impact and reach of NJ Clubs. For more information, visit bgcnj.org.
About Amazon
Amazon is guided by four principles: customer obsession rather than competitor focus, passion for invention, commitment to operational excellence, and long-term thinking. Amazon strives to be Earth's Most Customer-Centric Company, Earth's Best Employer, and Earth's Safest Place to Work. Customer reviews, 1-Click shopping, personalized recommendations, Prime, Fulfillment by Amazon, AWS, Kindle Direct Publishing, Kindle, Career Choice, Fire tablets, Fire TV, Amazon Echo, Alexa, Just Walk Out technology, Amazon Studios, and The Climate Pledge are some of the things Terese Greer 2-14 Fair Lawn Avenue Fair Lawn, New Jersey 07410 Tel: (201) 843-5600, ext. 202 Email: Terese@rosica.com pioneered by Amazon. For more information, visit amazon.com/about and follow @AmazonNews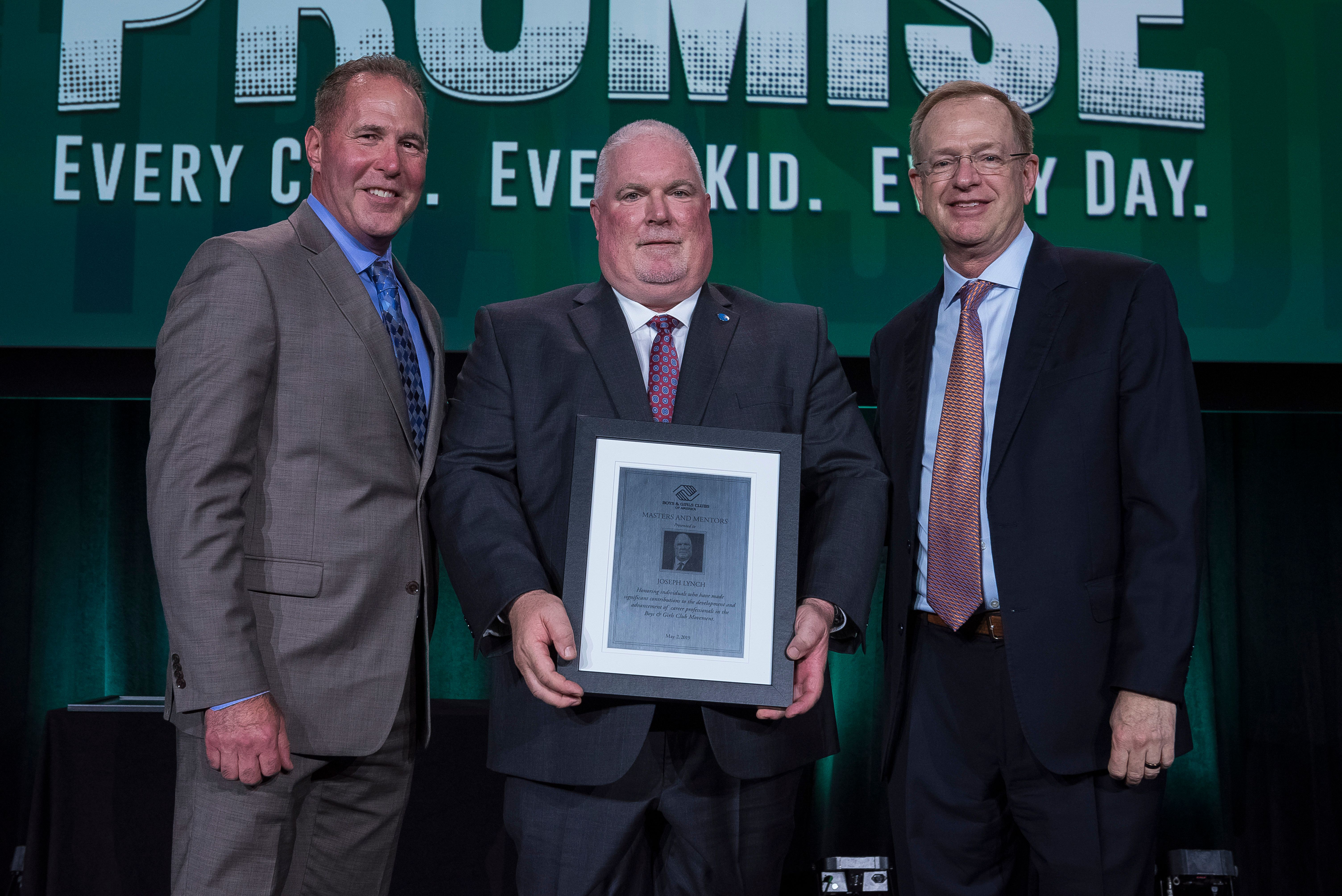 CEO Joe Lynch Wins Prestigious National Award
Joseph Lynch, Chief Executive Officer of the Boys & Girls Clubs of Northwest New Jersey and a resident of Pompton Plains, was recognized as a Masters & Mentors recipient from the Academy of Boys & Girls Clubs Professionals on May 2 during the Annual Boys & Girls Clubs of America's (BGCA) National Conference in Houston. As a testament to the Academy's belief that "enduring lessons are taught by example," Lynch was recognized for his inspirational leadership and mentoring of numerous staff within the Boys & Girls Club Movement.
Masters & Mentors is a distinguished honor bestowed by the Academy's National Advisory Council. Lynch was nominated by the National Training and Professional Development Advisory Committee based upon one or more of the following: contribution to the Boys & Girls Clubs Movement over a sustained period; successful mentoring of Academy members; or demonstrated excellence in the Boys & Girls Clubs profession.
Lynch began as the Athletic Director of the Boys & Girls Clubs of Northwest New Jersey in 1992 and became the CEO in 1996. That same year he reconstituted the Boys & Girls Clubs Garden State Chapter of The Professional Association, which had been dormant for nearly a decade. He served as the chapter's first President, which led him to his involvement with the TPA on a national level. In 2005, Joe was honored to be named Executive of the Year by TPA. He ran for his first National Board seat in 2002 and has served on the board ever since, serving as the TPA President from 2011–2013.
Lynch has also served continuously since 2002 on the Training and Professional Development Committee (TAPDAC). Through his participation in TAPDAC, he had the opportunity to gain his Masters' in Human Resource Development in 2005 from Clemson University. He is also a 2011 graduate of the Executive Advanced Leadership Program and a 2013 graduate of the Advancing Philanthropy Program.
"Joe has been a tremendous asset to the Boys & Girls Clubs of Northwest New Jersey," said David Unger, chair of the board of directors. "Under his leadership, the organization has positively impacted the futures of thousands of children."
During his 23 years as CEO, Lynch has expanded his organization from a membership of 800 children with a budget of $700,000 to one that currently serves over 5,000 children with a budget of more than $4.2 million dollars. He has overseen two major construction projects, which added critically needed program space. In addition, he was instrumental in orchestrating a merger in 2006 between the Boys & Girls Club of Wayne and the Boys & Girls Club of Morris County to become the Boys & Girls Clubs of Northwest New Jersey.
"My passion is to see children receive quality and safe programming from a well trained staff and to help nurture Boys & Girls Boys Club professionals so others can have the same support and success I have enjoyed in my career," said Lynch.