$35,000 Grant Received from Columbia Bank Foundation!
Special thanks to the Columbia Bank Foundation for their funding of $35,000 in support of the renovation of our gym at our Pequannock Unit!
For Immediate Release
(Pequannock, NJ - March 30, 2023) - The Columbia Bank Foundation and Columbia Bank continue to be great supporters of the Boys & Girls Clubs of Northwest New Jersey's (BGCNWNJ) Wayne and Pequannock Units. 
A complete renovation of the gym was necessary, but the cost was unexpected. That is where the Columbia Bank Foundation came in providing $35,000 in grant funds to help with the cost of repairs.  Renovating this space was necessary in order to provide quality care for families in our communities. Families depend on the Club to be there and to provide a safe and caring environment for their children.
"Columbia Bank and the Columbia Bank Foundation have had the pleasure of working with Boys & Girls Clubs of Northwest New Jersey for many years," said Thomas J. Kemly, President and CEO of Columbia Bank and President of the Columbia Bank Foundation. "We admire the work that they do and are proud to provide support through financial services, volunteering and charitable giving."
The Pequannock Unit's 3,024 sqft gymnasium is used not only as a gym but also as a multipurpose room and is the most frequently used space at the Pequannock Unit. The gymnasium is used every day during the week for Pre-K classes, a reading room, Power Hour (homework) space during afterschool programs, a lunchroom, and sports practices, clinics, and games. The gym provides a positive place for youth providing a safe, active and nurturing environment for them to learn and play.
BGCNWNJ programs include a state-licensed Pre-K-4 program; before and after-school programs that include homework help; summer and vacation camps; leadership clubs; and recreational and travel sports and clinics. BGCNWNJ also includes a SMART Moves Program, a drug and alcohol prevention program, and Triple Play Program, a health and wellness curriculum in our after-school and summer programming utilizing this gymnasium.
Thanks to Columbia Bank Foundation's continued support, along with Columbia Bank, they have made a difference in the lives of the 5,800 kids and families we serve every year and the gym is now a newer and safer place for kids!
*** We are also honored to HONOR  Columbia Bank at our 2023 Color of Fall Gala on October 6, 2023. For more information CLICK HERE.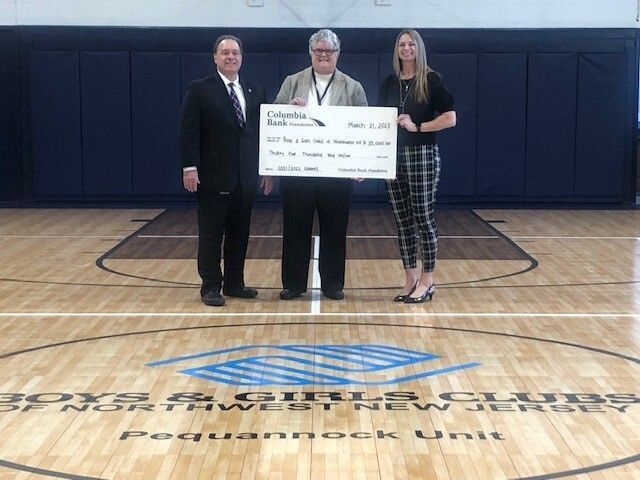 _________________________________________________________________
Thank you to the Starbucks Foundation
Thanks to Starbucks partners (employees) and The Starbucks Foundation for recognizing how we are making our communities stronger!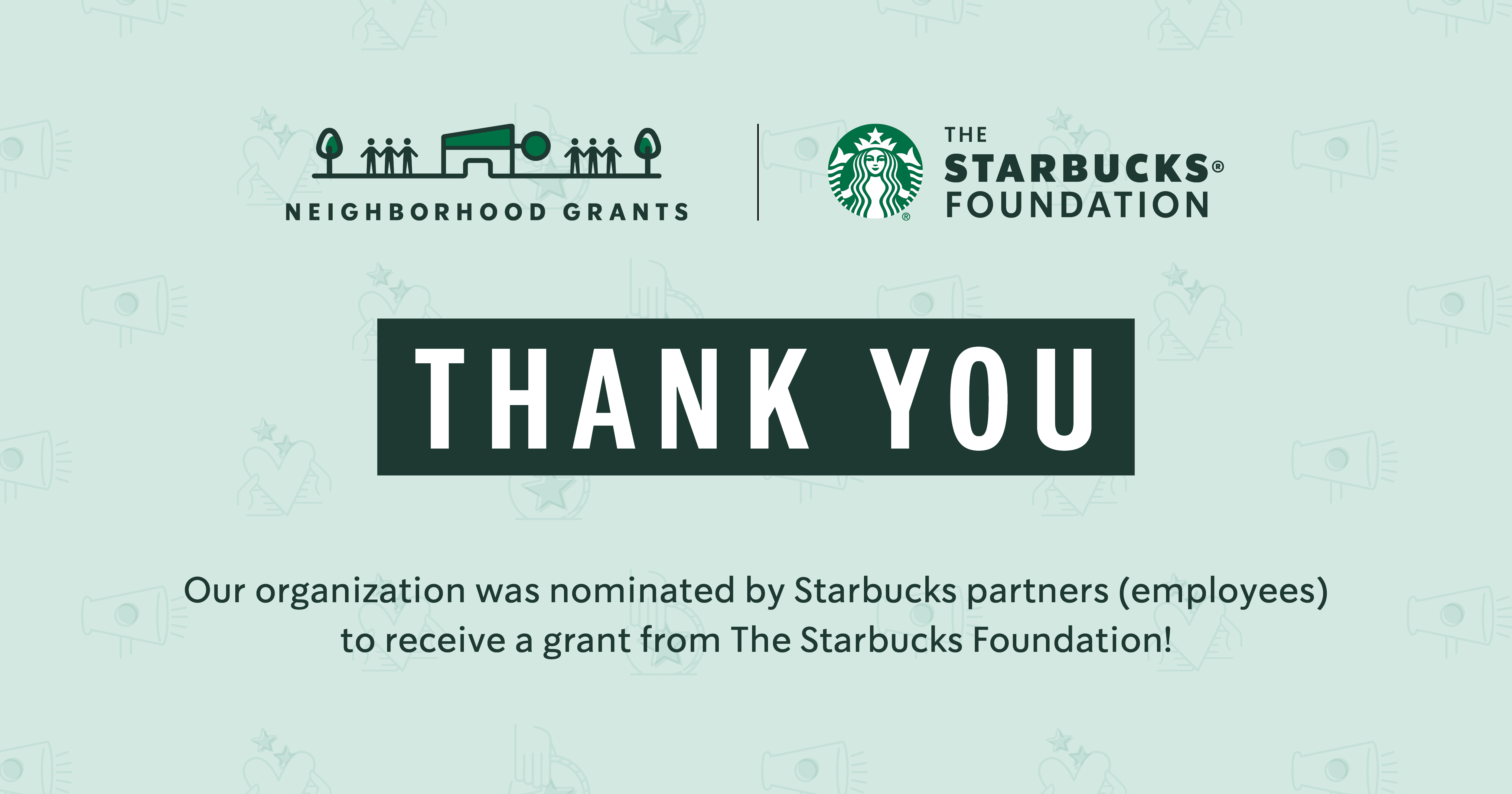 Atlantic Health System and Chilton Medical Center supports Boys & Girls Clubs of Northwest New Jersey. $50,000 grant awarded in support of Club programs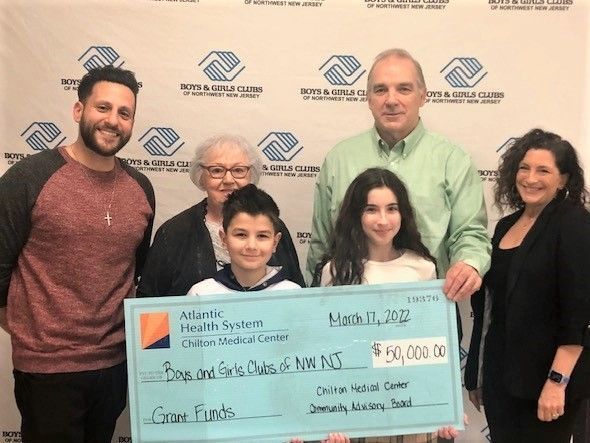 Atlantic Health System and Chilton Medical Center are committed to building healthier communities, beyond simply the delivery of excellent health care in our hospitals, medical practices and facilities. Understanding and supporting the needs of our local communities in Morris, Bergen and Passaic Counties is a top priority for Chilton.
With that in mind, the Community Advisory Board (CAB) of Chilton Medical Center was recently pleased to award the Boys & Girls Clubs of Northwest New Jersey (BGCNWNJ) with a $50,000 Chilton Medical Center CAB grant for the Clubs SMART Moves and Triple Play Programs.  SMART Moves is a drug, alcohol, and peer pressure resistance program. Triple Play is a dynamic wellness program that offers a holistic approach to nurturing the mind, body, and soul that helps children succeed in school, make healthy choices, stay fit, avoid drugs and alcohol and gain leadership skills.
"We are so thankful for the generous support from Atlantic Health System's Chilton Medical Center and their Community Advisory Board.  The funds from this grant will allow us to create opportunities for our communities' youth age 6-18 to master critical life skills to stay safe and healthy in today's challenging environment.  This will be a year-round effort focusing on the emotional, physical, and social needs of our members" said Joe Lynch, CEO of BGCNWNJ.  
A list of priority health needs in the Chilton Medical Center service area was identified in their most recent Community Needs Assessment which includes, but are not limited to - pulmonary disease, heart disease, diabetes, stroke, cancer, and behavioral health.
This grant awarded to the Boys & Girls Clubs of Northwest New Jersey has met one or more of the identified priority health needs, and will now help Chilton Medical Center and Atlantic Health System address these needs - this is great news for residents of Morris and Passaic Counties!
###
Boys & Girls Club Hosts Drug & Alcohol Prevention Teen Event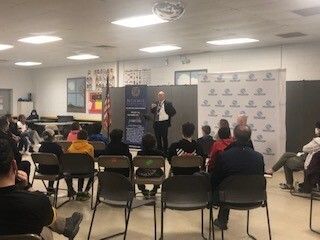 WAYNE, NJ – The message was clear: the key to drug and alcohol prevention is education, especially for adolescents and young adults. Knowledge and preparation can help youth avoid the lure and the trap of drug and alcohol abuse, according to the keynote speaker at an event held at the Boys & Girls Club of Wayne.
John Plunkett, the Outreach Coordinator of BlueCrest Recovery Center in Woodland Park spoke to thirty-eight middle school and high school students. The talk was a positive look at choices and courage. It was an openly honest look at today's drugs and their dangers. He shared how people make decisions, and how emotions and stress play a role in decisions.
"The goal of the gathering was for the benefit of Wayne youth on Choices," said Plunkett after the event. "We're hoping that these young adults were able to gain a better understanding of their decision-making process when they're curious and tempted to try, or follow-the-crowd and take drugs or alcohol for the first time." 
It began with pizza and light refreshments, and the guests, talking and laughing in small groups. When Plunkett was introduced and he came to the front to speak, all eyes turned his way.
With a welcoming smile and a contagious positive energy, Plunkett engaged with his audience and challenged them to think and react differently to everyday peer pressure.  An important reminder for those who are not a part of this younger generation came first.
"We parents have never walked in the shoes of today's youth," said Plunkett. "Today's parents did not grow up in an environment of 'life at the speed of twitter,' cell phones and social media use. We certainly didn't grow up in a 'stay-at-home, isolation, lack of human spark/interaction' type of environment due to COVID." 
He focused on points about his audience's difficult choices and how being prepared when confronted with these choices can help them make smart choices for their futures.
Courage was the second theme in his talk, defining it for them as "the quality of mind and spirit that enables one to face danger with confidence and bravery." "No is a full sentence when making the better choice for your future," suggested Plunkett. "Have the courage to say no. Walk away when something doesn't feel right."
He offered several suggestions; tools for their toolboxes, including asking those arrayed in front of him to turn to friends and family if life becomes difficult. "If you or a friend is challenged with all the noise out there; feel anxious, alone or stressed," said Plunkett. "Then ask for help. Talk to those you can trust. Your Parents, other family or friends. Seek help from great organizations like the Boys and the Girls Club or your teachers or counselors at school. Search for help on the internet. It's out there at any point for all of you. You just need to have the courage to ask for it."
"John gave an amazing and inspiring talk to the youth in our community," said Boys and Girls Unit Director, Dan Dipsey. "He not only educated those present at the event, he challenged them and made them think in a different way about the choices today's kids are faced with and the importance of open communication with parents and loved ones."
This was part of the Boys & Girls Clubs of America" Triple Play" program that is conducted at both their Wayne and Pequannock Clubs. According to the flyer for the event, this program "is a dynamic wellness program that offers a holistic approach to nurturing the mind, body, and soul, that helps your child to succeed in school, make healthy choices, stay fit, avoid drugs and alcohol and gain leadership skills."
A question-and-answer session followed, and it seemed clear in the questions that those in attendance had been listening and absorbing Plunkett's message.
"This program provided an opportunity for a safe and inviting space for attendees to ask questions," said Dipsey proudly. "I'm happy that these kids left here with the understanding of the effects of drugs and alcohol, peer pressure and choices, which was the key takeaway from the evening's event."